Control Solutions, Inc. Taurus Sc was recently featured in an article discussing the battle on termites with commercial buildings and residences.
Termite Battle
COMPANY: Terminix Pest Control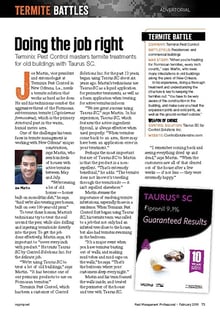 BATTLEFIELD: Residences and commercial buildings
WAR STORY: "When you're training for Formosan termites, every inch counts," says Martin, who see many infestations in old buildings along the piers of New Orleans. In his experience, doing a thorough treatment and understanding the structure is key to keeping the termites out: "You have to be very aware of the construction in the building, and make sure you treat the expansion joints and cold joints, as well as the ground contact outside."
WEAPON OF CHOICE
CONTROL SOLUTION: Taurus SC by Control Solutions, Inc.
WEBSITE: ControlSolutionsInc.com
The full article is published with PMP Magazine in the February 2018 edition.